25+ Latest bridal mehndi design
Wedding season has come up. In this wedding season all the brides want to adore with beautiful bridal mehndi design in her hand. As we know every Indian girl want to look like a Goddess on her big day. There are many factors to work on it, like a Best Bridal makeup, relevant jewellery and the best lehenga chunni. Above all the beautiful mehndi designs. Here we want to talk about the beautiful mehndi designs. If you are looking for a best bridal mehndi designs then you are at the right place. As a mehndi artist in our career we have seen and applied a lot of mehndi designs. Hence for here we present the most beautiful bridal mehndi designs. Which every bride want to apply on her hand. Without wasting any time here we want to show the beautiful mehndi designs for hands.
Bridal mehndi designs
Bridal mehndi designs have a different features rather than a simple mehndi designs. It have some specialty  in it. Which is well known by a professional mehndi artist. So here I will tell you all the things which is have special in bridal Mehndi. Firstly the Bridal Mehndi design  should be have elegant. It should not be messy in any condition. And dulhan mehndi design should be ravishing look. Apart from this, all patterns of simple mehndi designs are adjusted efficiently in Bridal Mehndi design.
Like paisley, curved lines, squiggles, dots, checks, flowers, leaves, peacock, portraits, loops and spirals, animals like big patterns.
Bridal Mehndi designs for hand and Feet.
Because most Indian bride likes to apply Mehandi till elbows. So the designs you have been shown here are all about elbows. In these Bridal Mehndi design, the Mehndi artist has made a design very closely in this design. The place has not been left, the outer line of each pattern is made thick and then the element has been made fine. This Mehndi design is very beautiful. Because it has all the features of Bridal mehndi designs. As I have mentioned above before, in addition to this, the negative design has been made.
To make this type of pattern, the pattern leave blank and other all placed filled by mehndi pest. So that the pattern becomes visible and this type of pattern come out very beautifully. And it is the only speciality of these types of mehndi designs. And having these types of speciality Bridal Mehndi designs are looking very beautiful. Mostly in this type of pattern lotus leaves and various types of flowers makes. These types to mehndi pattern we can make in the palm of the hand or anywhere in forhand. Back side of hand the same types of pattern also applied.
1.  Bridal mehndi design video
TO SEE THE BRIDAL MEHNDI DESIGN VIDEO OF BEAUTIFUL MEHNDI DESIGN SUBSCRIBE OUR YOUTUBE CHANNEL

2. Bridal mehndi design for hand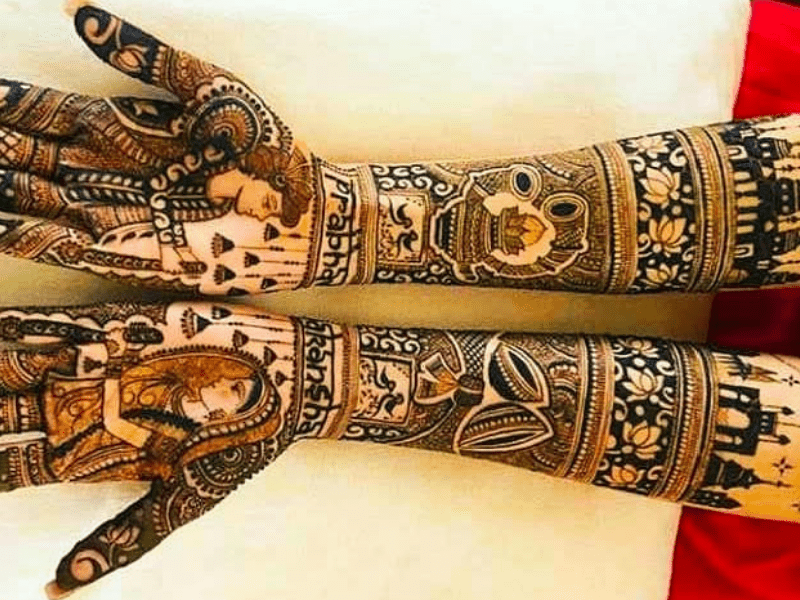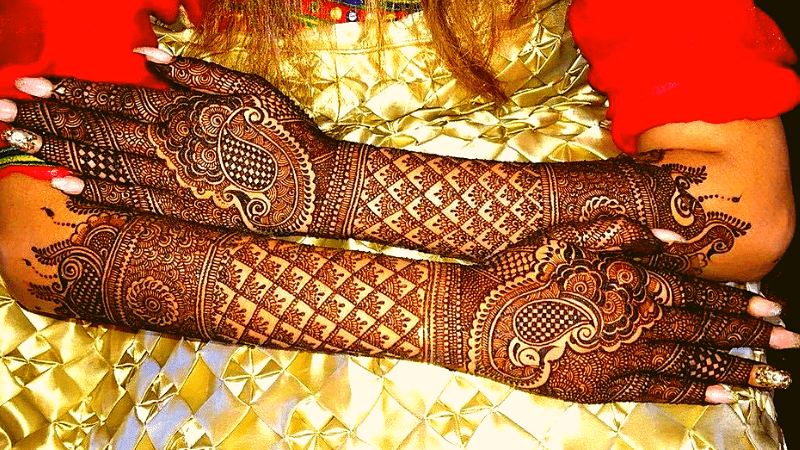 TO SEE THE BRIDAL MEHNDI DESIGN VIDEO OF BEAUTIFUL MEHNDI DESIGN SUBSCRIBE OUR YOUTUBE CHANNEL

bridal mehndi design,
bridal mehndi design full hand
bridal mehndi design 2018
bridal mehndi designs 2018
bridal mehndi design latest
bridal mehndi design book
bridal mehndi design for hands
bridal mehndi designs for hands
bridal mehndi design for legs
bridal mehndi design 2018 latest images
bridal mehndi design simple,
bridal mehndi design images,
bridal mehndi design legs,
bridal mehndi design 2017,
bridal mehndi design video,
bridal mehndi design for back hand,
bridal mehndi designs for full hands pdf,
bridal mehndi design 2017 latest images,
bridal mehndi design download,
bridal mehndi design pakistani,
rajasthani bridal mehndi design,
bridal mehndi design photo,
bridal mehndi design hd,
bridal mehndi design in hd,
bridal mehndi design for feet,
bridal mehndi design for foot,
royal bridal mehndi design,
bridal mehndi design with dulha dulhan,
bridal mehndi design hd images,
bridal mehndi design pic,
marwari bridal mehndi design,
bridal mehndi design video download,
unique bridal mehndi design,