How To Apply Eye shadow
Eye makeup or Eyeshadow plays important role in makeup. here is the complete guide that How To Apply Eye shadow  it can make your entire makeup at a level or can break if not done properly and a thing can be wrong so we are here to tell all about a good eye makeup and you can look a gorgeous look in a party. so be in touch with us to know all about our full guide of perfect eye makeup.
First of all, we should be know that which items will be required for a perfect eye makeup, here the list of all items which is required for eye makeup.
We, Will, Need for eye makeup or eye shadow
Moisturizer
Eye cream
Eye primer
Eyeshadows
Eye makeup brushes
A kohl pencil
An eyeliner
A mascara
how to apply eyeshadow step by step
now we should know about the brushes which will be used in eye makeup
Flat Stiff Brush
Pencil Brush
Stiff Dome Brush
Fluffy Dome Brush
Now we will tell you all the step of how to apply eyeshadow with pictures
Step 1: It's All About That Base
how to apply eyeshadow on eyes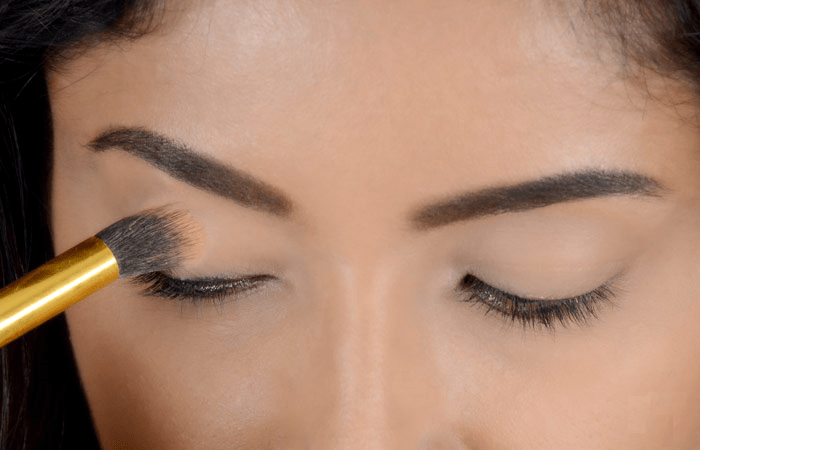 how to apply eyeshadow pictures step by step
It is the very crucial part of eye makeup that prepping the eye for a base. first of all clean the area around the eyes. after that apply the moisturizer or you can apply a cream on it.after that prepare the eye with a primer so that your makeup leave long last and gives a seamless finishing. you can use a concealer around your eyes that matches your skin colour/tone. after that apply a concealer whit the help of brush and apply a layer of transparent powder. it will make the eye area look even, make the skin crease proof and hide any discolouration of the skin.it provides a clean base so that the clours sit better.
How to apply eyeshadow step by step video
Step 2: Chose The Type of Eye shadow
how to apply eyeshadow beginners
It is the actual part of the eye makeup where you should be kept the shape of your eyes in your mind and choose accordingly makeup technique that which makeup technique enhance them. as we know that our eye area has the eyelid, the crease and the brow bone. it is very important than which shade or texture should be used in each of those areas. use shade like frost/shimmer/shine on eyelid and brow bone and matte finish shades on the crease.
Top Tip/NOTE–  Use a darker texture of eye shadow to the outer side of the eyes at the crease and use lighter shades at the centre part of the eyelids. apply the colour on the eyelid with the help of a flat eye shadow brush using a sweeping or patting motion. start the application from the centre and go towards the inner and outer corner by sweeping. Apply the colour normally on the lid and deposit more for look dark.
Step 3: Dark Shades for the Crease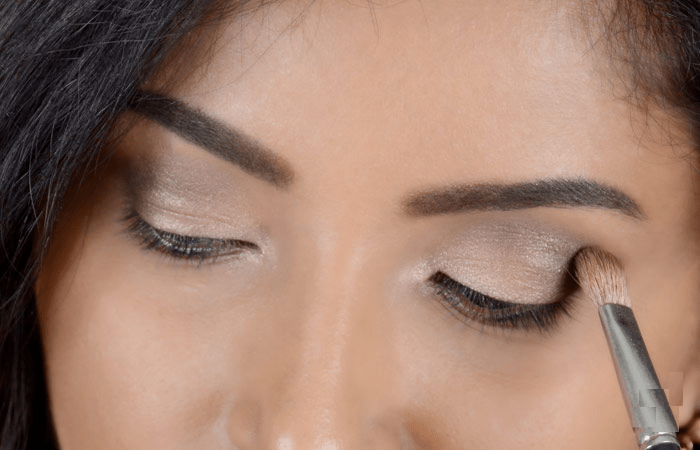 how to apply eyeshadow for beginners
Now, we will come to the crease area. Use a darker texture of eyeshadow to highlight the eye shape.to do it we should be use shades like deep browns, black, deep grey, dark purple, etc. Starting from the outer corner of the eye, just like 'V', and blend it halfway through the eyelid with a fluffy eyeshadow blending brush. Do this using the windshield wiper motion. run the blender continuously until the colour starts to look lighter. In order to highlight the brow bone, go for lighter shades in either frost or shimmer shades.
Step 4: Rim The Eyes With Kohl
how to apply eyeshadow like a pro
use a kohl pencil To make the eye makeup more beautiful, on the lower lash line. blend it with a smudger brush /pencil brush if you want a smokey effect.
Pro Tip – The best way to make them look bigger and brighter Using a white/beige coloured eye pencil on the lower rims of the eyes.
Step 5 –Apply eyeliner
how to apply eyeshadow pictures
to define eyes beautifully use eyeliner. start the eyeliner from the outer corner and slowly come inwards. make it simple, or make it beautiful. and when you hesitate come outerwear or stop.
Step 6 Here's the Final Look.
how to apply eyeshadow with lipstick
What do you think That Your Eye Makeup Will Crease?
To prevent your eye makeup from creasing and spots, keep the following tips in your mind.
Apply a good quality of base or primer as it will immediately boost your eye makeup and it will be live for a long time.
You have to set the eyeshadow with a powder base if you've used a cream-based eyeshadow.
Use a gel / waterproof eyeliner to prevent any transferring of the product.
Some Quick Tips to Apply Eyeshadow Perfectly
It is good to finish eye makeup first after that go on to your base makeup. Because there's an eyeshadow fallout under or around the eyes, you can quickly clean it up without spoiling your base makeup.
To make a clear crease area, use a pencil brush after that blend it with a fluffy brush.
Choose a formula that works best for you. It can be available in cream, powder, or pressed form. If you are using powder eyeshadows then use a base of creamy eyeshadows.
In case you have hooded or deep-set eyes, try applying the eye makeup with your eyes open instead of closed so that the crease colour is actually visible.
If you face any problem in drawing the 'V' on the outer corner of the eyes, then make a '#' with an eye pencil, Further to avoid stark edges blend it immediately.
To avoid eyeshadow fall out, powder the area under your eyes with a transparent or translucent powder before beginning the eye makeup, wipe out the excess of powder.
Wait to conceal your under eyes after the eye makeup.
Use clean brushes to get the best transition.
All the above does perfectly take a little time and patience, but once you have done, it becomes very easy. I can't believe there was a time when I was intimidated! Now, I waiting to the days when I have to attend a party or a wedding so that I can go all out with my eye makeup! If you have any queries, just comment in the box below.
Tags
← bridal makeup artist in Delhi for Wedding makeup mehndi ceremony mehndi night | Professional mehndi artist for wedding mehndi →